Basting mop clenched in one fist, steering wheel in the other, rolling cooking pit rattling behind, Butch Lupinetti is back on the road. His destination could be Chicago, Minneapolis, Cedar Rapids or anyplace in between. But the outcome will never change. Butch will pour sweat for 20 hours a day, standing in a cloud of wood smoke, exquisitely charring tons of pork ribs, beef briskets and chickens. When it's over he'll be loaded and rolling again; very likely with a huge trophy and a check.
Butch Lupinetti was born on a farm in Pemberton, NJ. While growing up he was the designated whole hog cooker who spent the night cooking while others slept. In time he developed a method of cooking a pig in 5 hours so he could stay awake and enjoy the party with the other guests. From 1970 through 1997, Butch owned Butch's Blues and BBQ joint, which served real roadhouse hickory flavored barbecue. Nationally he has been repeatedly recognized as one of America's great barbecue chefs. Butch has been actively competing in competitions since 1992. He has won over 400 awards, including a Grand Champion win for the State of New Jersey – a Kansas City BBQ Society sanctioned event, the Jack Daniels Invitational BBQ and The Best In The West Cook-Off in Sparks, Nevada, the super bowl of barbecue competition events, just to name a few. During those events, his sauce has won 1st place in contests such as the Great America Rib Cook-Off contest held in Cleveland, Ohio. Other 1st place awards for Best Sauce include Naperville, IL, Minneapolis, MN, Cedar Rapids, IA, Indianapolis, IN, Columbus, OH, Toledo, OH, Dayton, OH and Ocean City, NJ. 
Over the years Butch has developed his award winning line of sauces and seasonings (dry rubs). They include tomato based as well as vinegar based sauces with different ranges of heat from mild to pyrogenic and super pyrogenic, Butch's Smack Your Lips sauces have won several very prestigious awards. The Kansas City Barbecue Society's American Royal Sauce contest , Fiery Foods Magazine Scovie Awards, and the Texas Fiery Foods Show.  Each contest had over 500 entries and was judged by food professionals such as chefs, restaurateurs, food writers, food buyers and culinary instructors. Their emphasis was on flavor blends and overall palatability. 
The Food Network chose Butch to compete in the pilot episode of Throwdown! With Bobby Flay in 2006. He was chosen again to be part of a Throwdown Rematch in 2008. 
Butch resided with his wife and daughter in Mount Laurel, NJ when he was not out winning another trophy. Now his daughter Alyson carries on his winning tradition by continuing his winning ways.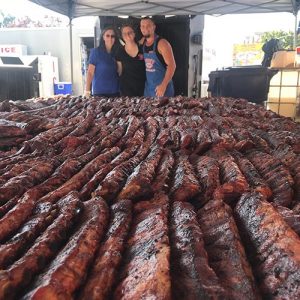 Butch's smack your lips BBQ started in 1974 from a passion for Carolina style slow cooked BBQ.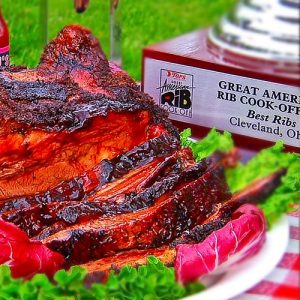 For news on Butch's BBQ, any new sauces, any appearances, recipes and more. Come back often!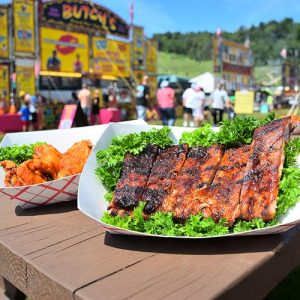 Find out which event where Butch's will be next! Also subscribe to our mailing list where we can keep you up to date!
Can't get enough of the awesome sauce at Butch's Smack Your Lips BBQ? Well then! Check out our store!